Dental Implants in Manchester, NH
---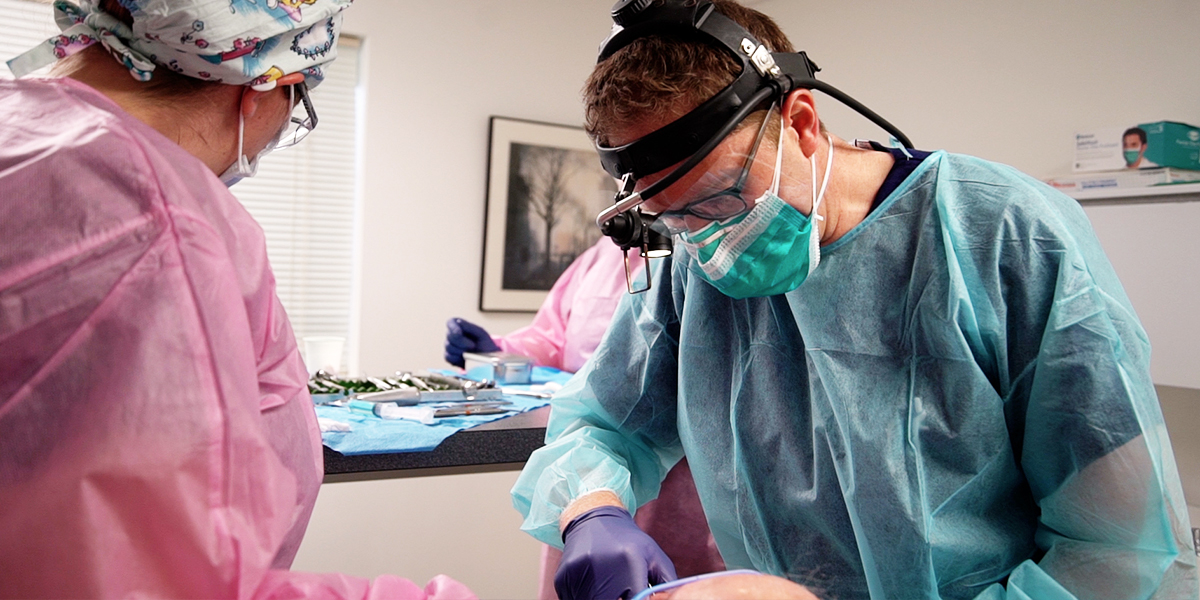 ---
Manchester Oral Surgery provides dental implants in Manchester, NH. Call 603-622-9441 to learn more or to schedule an appointment.
Although having a beautiful smile and the confidence that comes with it is important, there are also important health reasons to have dental implants. Whether replacing one tooth or several, implants are an important solution to restoring and maintaining dental health.
---
Why should I consider dental implants?

Dental implants are designed to provide a foundation to support replacement teeth. They look, feel and function just like natural teeth. The patient who has prematurely lost teeth regains the ability to eat virtually anything, knowing that their replacement teeth appear natural and that facial contours will be preserved. Patients with dental implants can once again smile with confidence.

Why would you select dental implants over more traditional forms of tooth replacement?

There are several reasons:  Removable partial dentures must be inserted every morning and removed every night. In addition to being inconvenient, dentures can be uncomfortable and embarrassing. Fixed partial dentures, or bridges, can provide stable sets of replacement teeth, but this comes with a price. The patient must accept that at least two, and sometimes more, teeth adjacent to the lost tooth space must be cut down or prepared to provide connecting points for bridges. Dental implants eliminate the need to cut down perfectly good teeth!

Are you a candidate for implants?

If you are interested in dental implants, please schedule a consultation with Dr. Abel so that he can review your medical and dental history and perform a detailed examination, including imaging and clinical findings. This will determine whether you have enough bony height, width and length to place, stabilize and maintain dental implants. If Dr. Abel finds that you do not have enough bone for dental implants, he will discuss ways of improving your individual situation, such as bone grafting, so that you too may benefit from dental implants in the future.

Do implants need special care?

Once the implants are in place, they will serve you well for many years if you take care of them and keep your mouth healthy. This means taking the time for good oral hygiene (brushing and flossing) and keeping regular appointments with both your regular dentist and your surgical specialists. You'll be expected to follow-up at least yearly with your regular dentist to ensure there are no detrimental bony changes occurring around your implants.

How can dental implants help prevent bone loss?

Dental implant placement can help generate bone growth in the area around the implant, which not only strengthens the bone and builds support but can also alleviate the sunken look that can occur with bone loss in the jaw. This process is known as osseointegration and is a significant benefit of implant placement because it can also help prevent future bone loss.
---
Why Choose Manchester Oral Surgery?
---
Manchester Oral Surgery specializes in dental implants. Here's why patients choose our practice:
Dr. Abel is a careful planner, methodically staging your dental implant treatment to offer you the best chances for a successful outcome
In select cases, your teeth can be extracted and your implants placed on the same day
Our practice uses advanced 3D surgical guides for increased precision and lower risk of complications
State-of-the-art 3D cone-beam CT scan imaging and digital intraoral scanning equipment for more accurate dental implant treatment planning and surgical placement
Dr. Abel is a Board-Certified Diplomate of the American Board of Oral and Maxillofacial Surgery and a Fellow of the American Association of Oral and Maxillofacial Surgeons
Manchester Oral Surgery is consistently named in New Hampshire Magazine's Top Dentists edition for Oral & Maxillofacial Surgery
Our highly-trained, kind, and compassionate care team all work together to guide your treatment
Individualized, professional, patient-centered care
How much does it usually cost for dental implants?
---
The cost of dental implants depends on a number of factors, including the number of implants, the type of implants, the restoration that will be attached to them, and whether any supplemental procedures like bone grafting or extractions are needed. During your consultation, we'll let you know exactly what to expect.
---
What is the best age for dental implants?
---
You're never too old to get dental implants, but you can be too young. It's generally recommended that you wait until at least 18 years of age for females and 21 years of age for males before getting a dental implant. In some cases, Dr. Abel may even recommend waiting a few more years before pursuing implant surgery.
---
Do dental implants hurt?
---
Having dental implants placed in your mouth is not painful, since the area where we're working will be numbed with local anesthetic. Once this wears off, in the hours after your surgery, you can expect to experience some tenderness, but this is usually alleviated with over-the-counter pain relievers.
---
What happens if I don't have enough bone for dental implants?
---
If you don't have the bone mass needed to support dental implants, Dr. Abel will recommend bone grafting or a sinus lift. You may also be a candidate for a different type of dental implant procedure that requires less bone mass because the implants are placed at an angle or are smaller in diameter than traditional implants.
---
What is the alternative to dental implants?
---
There's no real alternative to dental implants since only dental implants replace the roots of the missing teeth. Bridges and dentures restore the visible portion of your teeth, but they don't offer the same benefits as implants.
---
Who's not a good candidate for dental implants?
---
Cigarette smoking and uncontrolled diabetes are known risk factors for dental implant failure. Beyond that, Dr. Abel will need to see you in our office in consultation to review your health history and medications in order to determine your candidacy for dental implants.
---